We are really proud to be partnering with Films Across Borders (FAB) once again, bringing you critically acclaimed films, documentaries and shorts from around the world. Co-presented by American University in partnership with embassy cultural organizations, arts institutions and environmental groups, the series focuses on a distinctive timely and compelling theme each year.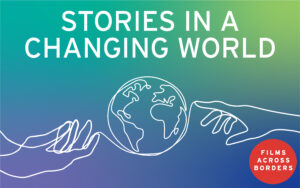 Now in its seventh year, Films Across Borders presents "Stories in A Changing World."
The 2021 cinematic series features stories of change, transformation and renewal in all walks of life and across continents. Previous Films Across Borders series have focused on 'Stories of Resilience and Hope' (2020); 'Stories of Water'(2019); 'Stories of Women' (2018); and 'Stories of Migration' (2017).
The 2021 series will run from October through December. Check each listing for specific details,including if there are any geographic restrictions, as some films may have limited release.
Be on the lookout soon for an announcement on our October 5 screening, as we kick off the FAB series with American University.