Immigration Film Fest 2020
Register for your Personal Link to Attend our Live Virtual Screenings!
On January 15, at 12 noon, we will be screening six short films followed by a filmmakers panel. Thank you for signing up to attend. 
Now you must get your unique Zoom Webinar link.  Just go to the link below to register your email address. Your access link and reminders will be sent to you by email for each event. All you have to do is go to your email and open your link to join the event:
Friday January 15 – "Student and New Immigrant Voices"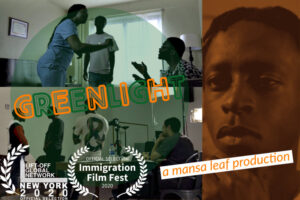 12 Noon: Greenlight (14:20)
dramatic short (USA – Harlem, NY)
Greenlight is about Amare, a film student who is a first generation child to immigrant parents from Africa. His mother, a home health aide who supports Amare any way she can and his father, a failed business owner, who is still trying to recapture former glory, leans on Amare's assistance. As Amare deals with the stress of making his thesis film while his family and himself struggle financially, he doubts if he will ever become a filmmaker that can relieve his family's financial struggles.
Director Salif Soumahoro was born and raised in Harlem New York to Ivorian immigrants. He is a film production graduate of Brooklyn College. He writes, directs, and acts. He started out in acting, but fell in love with creating his own content and decided to shift his focus to filmmaking because he wants to tell unique stories that can reach the masses.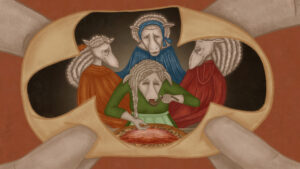 12:15 PM: Recipe In Exile (4:30)
animated short (USA – Brooklyn, NY)
Recipe in Exile tackles a very personal yet universal story about tradition, family heritage and adaptability. It is a tale that spans a hundred years, juxtaposing the lives of two immigrant women and linking them through a traditional family recipe being passed on from generation to generation. The story is inspired by the Syrian refugee crisis in the context of the Armenian diaspora, highlighting the importance of holding on to our cultural heritage in order to stay connected to our roots.
The Director, Chantal Kassarjian, is a Lebanese motion designer and animator of Armenian descent, based in New York City. Her cultural heritage is intricately woven into her design aesthetic and the polemic subjects she chooses to tackle. She has an M.F.A. in Digital Animation with distinction from Pratt Institute. Having explored both the realms of graphic design and animation, her style is a patchwork of disciplines, techniques, and ideas. Her work embodies her playful artistic process and conveys her love for illustration, typography, photomontage, and motion arts. She does not shy away from taboo topics; addressing issues such as intercultural marriage in Lebanon, the prosecution of homosexuals in the Middle East and the plight of immigrants seeking new beginnings. She wishes to use her skills to create compelling visual experiences and tell stories that matter.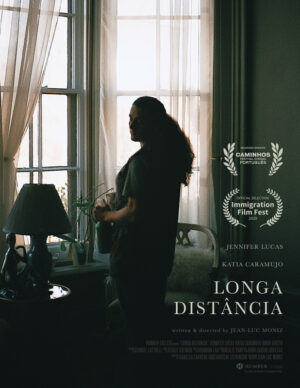 12:20 PM - Longa Distância (14:00)
dramatic short (Canada)
An immigrant housekeeper works to provide for her son back home in Portugal. When she is accused of stealing from a client, she fears that what she's been working towards will all come crashing down.
Jean-Luc Moniz, Director, is an emerging filmmaker in the Canadian Film & Media industry. His passion for film & television began with watching 8mm vintage family films made by his grandfather. Since then, he's gone on to work on projects including music videos, branded content and short films.
As a son of immigrant parents, Jean-Luc has a particular interest in stories about family dynamics, especially in the context of families building a life in a new place. His most recent narrative short, Longa Distância, is a reflection on his family's experience immigrating to Canada.
Director Statement
As someone born to immigrant parents, I've always been drawn to stories about coming to a new place and observing the similar struggles that immigrants from all reaches of the world experience. "Longa Distância" was influenced by the many stories I heard growing up. My mom is a housekeeper, my aunts are housekeepers – an occupation that is prevalent in the Portuguese immigrant community.
The main character, Alisone, moves to Canada so that she can send money back home to support her son. Although a point of contention of the film is the disappearance of the employer's rings, I didn't want this to be a story about us versus them, but rather, an observation of motive for immigration, and the stakes that come along with it.
The film takes place in 1995, a time when Toronto was seeing a significant amount of Portuguese immigration. I chose to set the film in this time because of the historical relevance to this particular story. Furthermore, I wanted the movie to feel familiar to people who are or have grown up with immigrant families. Part of this story is set in a general store that has all odds and ends that reflect Portuguese culture; these types of one-stop shops can be found scattered throughout various cultural communities in North America, and are frequented by people belonging to them. "Longa Distância" is an open-letter to my family, my culture, and to people building lives for themselves in new places. It's a story about longing, sacrifice, and the distance we'll go to care for the ones we love.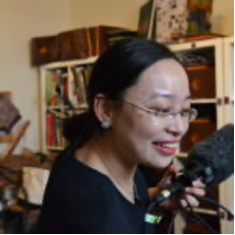 12:35 PM - Campaign for a New American (Excerpt 00:50, Original 10:41)
documentary short (USA – Revere, MA)
An Indian immigrant's daughter campaigns to be elected as the first woman of color to the city council of a working class town that has always been a magnet for immigrants. The town, 38% new immigrant, is still being run by the offspring of last century's immigrants. The new folks on the block will sooner or later take the reins of power and responsibility – or will they?
Filmmaker: Qin Li
Editor: Alex Morelli
Additional Sound and Camera: Abdirahman Abdi
Qin Li
Emigrated from China in 2015, lives in Revere, MA
Qin is a scholar-activist focused on women's empowerment. She began her research on women in rural China. Now she works with women and immigrants from all over the world as a volunteer at Women Encouraging Empowerment in Revere.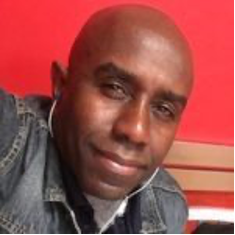 12:47 PM - Lift with Your Heart (Excerpt 0:45, Original 8:10)
documentary short (USA – East Boston, MA)
Choreographer Jean Appolon struggled for years to find a sense of belonging in his native Haiti and in the United States. He discovered his purpose in teaching dance to heal and engage community members of all ages and backgrounds in celebrating cultural diversity.
Filmmaker: Braulio Tellez-Vilches
Editor: Alex Morelli
Additional Camera and Sound: Patricia Goudvis, Mohammed Arifuzzaman
Braulio Tellez-Vilches
Emigrated from Cuba in 2017, lives in East Boston, MA
Braulio was a professor and career diplomat in Cuba. He works at ABM Aviation as a safety and catering instructor and volunteers with Catholic Charities and the Irish International Immigrant Center. He is studying to become a Spanish teacher in the Boston Public Schools.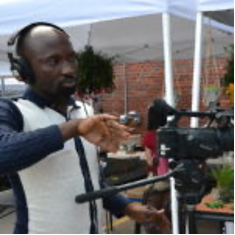 12:56 PM - Pulse of a Dream (Excerpt 1:46, Original 11:42)
documentary short (USA – Lowell, MA)
Why do different ethnic groups end up pigeon-holed in particular industries: Vietnamese flooring refinishers, Ugandan and Haitian health workers…? A Ugandan immigrant turns the camera on himself and his family as he struggles to understand why he, his wife and most of their fellow Ugandans, with degrees in other professions, are working as nursing assistants. He's surprised to discover that the Ugandan version of the American dream involves taking care of America's sick and elderly.
Filmmaker: Mubarak Muwonge Nsamba
Editor: Zayde Buti
Additional Editor: Heather Cassano
Mubarak Muwonge Nsamba
Emigrated from Uganda in 2017, lives in Lowell, MA
Mubarak studied forestry in Uganda, but worked in IT, website design and digital filmmaking. His wife, Zaamu, studied Library Sciences and worked as an academic librarian. They applied for and won the Diversity Green Card lottery, which allowed them to come with their four young children to the US.
1:10 PM – Filmmaker's Panel
Friday November 13 – Opening Night – "Stories of Resilience & Hope" Presented with Films Across Borders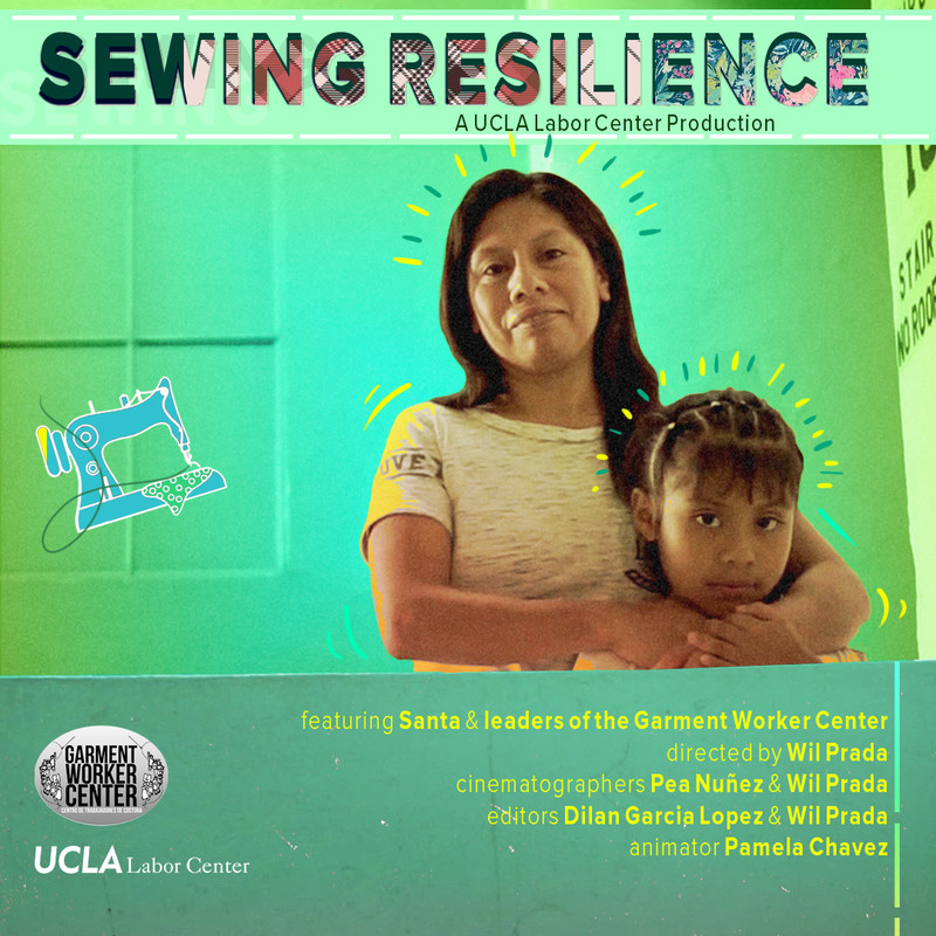 7:30 PM: Sewing Resilience, the Garment Worker Mothers of Los Angeles (00:14:19)
documentary (USA-California)
Santa Puac is a mother, garment worker, and part of a movement to end exploitation in the fast fashion industry of Los Angeles, the capital of U.S. garment production. Her children are her motivation on her quest to access a proper education for them and to fight for justice.
Director Wil Prada is a cultural activist that loves capturing and creating stories through film. He was born in La Campiña, Lima, Peru and since a young age he's been amazed by the night sky. Prada is undocumented and has used his art as a form of advocacy. After obtaining his BA in Political Science from the University of California, Los Angeles, he became more involved in the grassroots immigrant rights movement, where he became a skilled media communicator after seeing the need to amplify marginalized undocumented immigrant voices. Wil works with the UCLA Labor Center.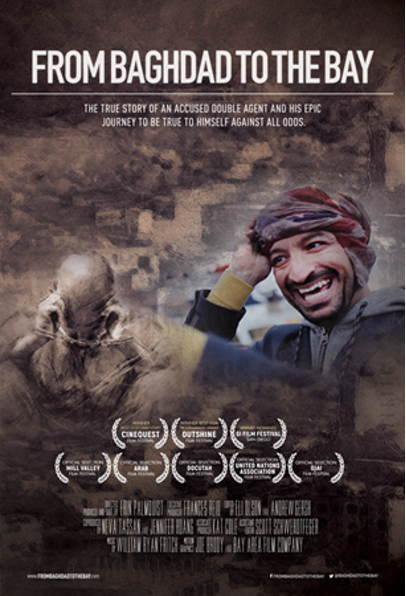 7:45 PM: From Baghdad to The Bay (01:08:00)
documentary (USA-California)
"From Baghdad to The Bay" is a raw and deeply personal look at one man's harrowing journey to be true to himself amidst extreme adversity. The film follows the epic journey of Ghazwan Alsharif, an Iraqi refugee and former translator for the U.S. military. Wrongfully accused of being a double agent, tortured by the U.S. military and ostracized from family and country, Ghazwan struggles to rebuild his life in the United States while coming out as an openly gay activist.
Director/Cinematographer/Producer Erin Palmquist has worked for independent filmmakers as well as Lucasfilm, National Geographic Explorer, and PBS. From Baghdad to The Bay is her first feature length documentary.
9 PM – 9:30 PM: Filmmaker Panel Discussion with Wil Prada (Sewing Resilience), Erin Palmquist and Ghazwan Alsharif ( From Baghdad to the Bay)
Saturday, November 14 – Afternoon Program "Immigrant Contributions in Sports" Presented with KAMA DC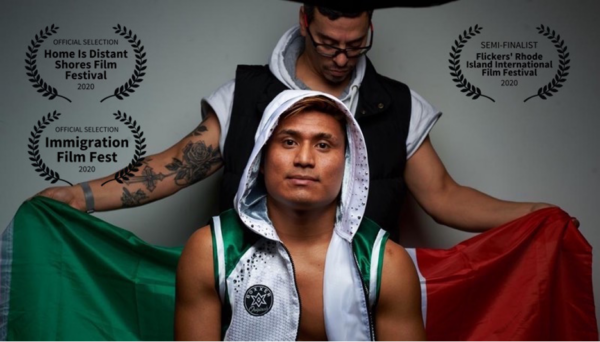 2 PM: Two Rivers (00:17:47) short
(USA – Pennsylvania)
DREAMER Alejandro Jimenez was smuggled into America as a boy and, thanks to DACA, is now New Hope, Pennsylvania's first professional boxer. In the days leading up to his toughest fight, with lawmakers threatening to repeal DACA, he battles for the ideals of a nation.
Director Ben Samuels most recent script, co-written with his brother, Oliver, placed in the Top 50 of the 2019 Nicholl Fellowships from over 7,300 submissions. Ben's one-act play ATTILA premiered at Playwrights Horizons in the Samuel French Short Play Festival and was adapted into an award-winning short film. His extensive filmic work includes: THE SUBJECT starring Jason Biggs and Aunjanue Ellis, RAISE A MAN by Alicia Keys, and countless narrative, branded, and music video works. His first novel, inspired by a true story of surviving the Holocaust and post-war emigration entitled MASTER OF SECRETS, was just published.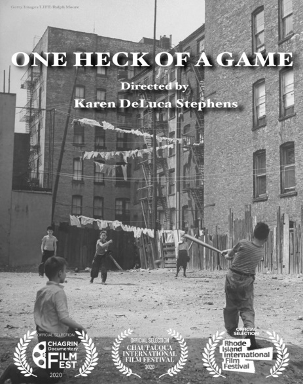 2:20 PM: One Heck of a Game (00:17:48) short
(USA- Massachusetts)
In the summer of 1937 during the Depression a group of 13 year old boys from an Italian immigrant neighborhood of Boston forms a baseball team. They hunt up uniforms and equipment; they join a citywide league alongside 27,000 other boys. They win every game to reach the championship, a game that is played in Fenway Park. They win by one run on an infield home run in the bottom of the last inning. Four years later they enlist and fight in WWII. ONE HECK OF A GAME recounts a baseball game and its transformative power.
Karen DeLuca Stephens  is originally from East Boston, MA, she is a writer of Boston stories. ONE HECK OF A GAME is her first documentary. DeLuca Stephens has also written a screenplay, HITTING HOME, a story of ethnicity, race and neighborhood baseball in Boston in 1937. She is currently working on a biography of Bob Watson for the Society for American Baseball Research Baseball Biography Project.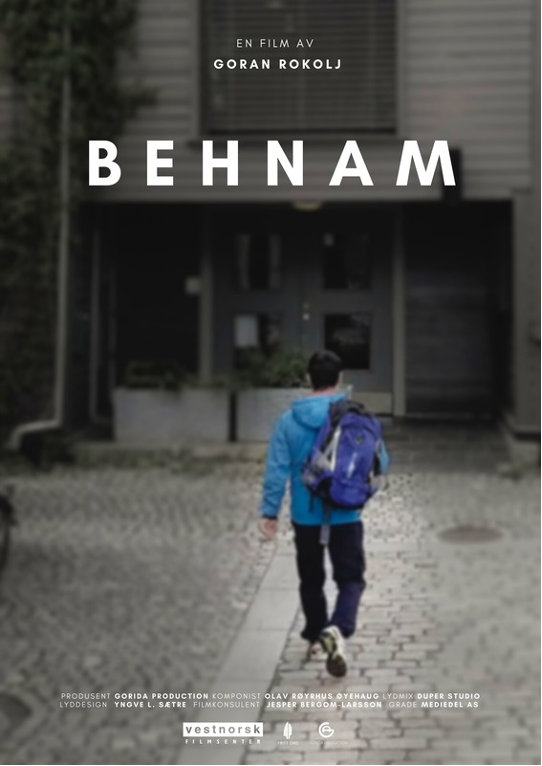 2:40 PM - Behnam (00:12:23)
short (Norway)
It is a story about Behnam, a political refugee who used to be a successful wrestler in Iran before he started a new immigrant life in a small Norwegian town, Voss. For several years people had not been aware of his rich background and skills until the moment he decided to open a door of a local sport club. That moment brought a positive change in his life and the life of people in a small Norwegian community.
Director Goran Rokolj  is a Canadian/Bosnian filmmaker who currently lives in Norway where he makes and produces documentary films.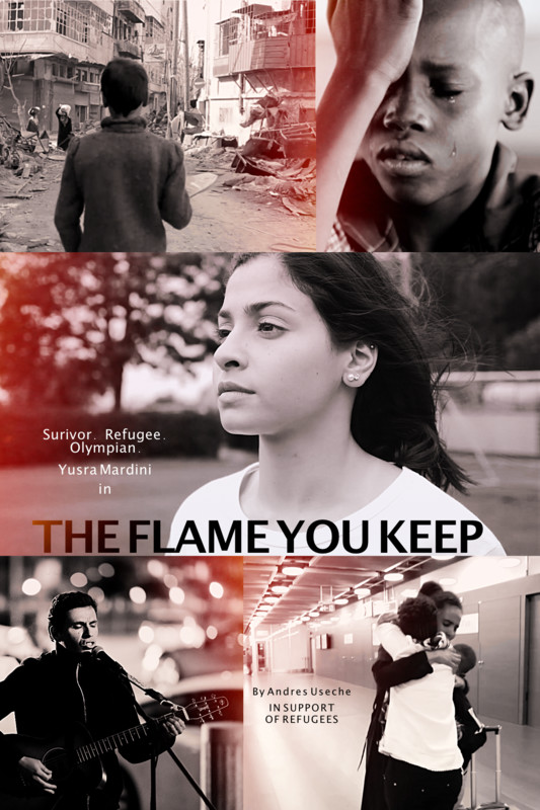 2:55 PM - The Flame You Keep (00:5:00) music video
(USA- Colorado)
The Flame You Keep chronicles the plight of refugees across the globe, including the story of Yusra Mardini who fled from Syria to become an Olympian swimmer and a Good Will Ambassador for UNHCR.
 Andres Useche, Award-winning Colombian American writer, film director, script doctor, singer-songwriter, visual designer, organizer, activist and screenwriting MFA professor.
Andres published his first political cartoon, at age 11 in a local newspaper. While in High School, he wrote and drew a graphic novel that won an award from the Colombian Ministry of Culture. He wrote, directed, scored and starred in an award-winning short before graduating from a Colombian university with a degree in visual design with an emphasis in film. He moved to LA to work as a writer/director and script doctor, earning more awards and becoming a United States citizen. As writer-director Andres has collaborated with A-list talent and created films, songs and videos to support causes like Climate Change awareness, immigrant and refugee rights, Barack Obama's election campaign, environmental causes, wildlife protection, and human rights. He performed his own songs at two Obama presidential inaugural galas and spoke in support of the immigrant community at the Obama White House. Andres teaches an MFA in screenwriting and sings concerts, leads workshops and speaks at international events across the globe.
3 PM – 3:45 PM: KAMA Moderator Cameron Torreon in Conversation with Filmmakers Ben & Oliver Samuels (Two Rivers), Andres Useche (The Flame You Keep), and Arturo Reyes, Urban Boxing, and Leila Milani, Soccer without Borders
Saturday, November 14 – Evening Program "Community Solutions for Welcoming the Stranger" and Post-Election Immigration Policy Panel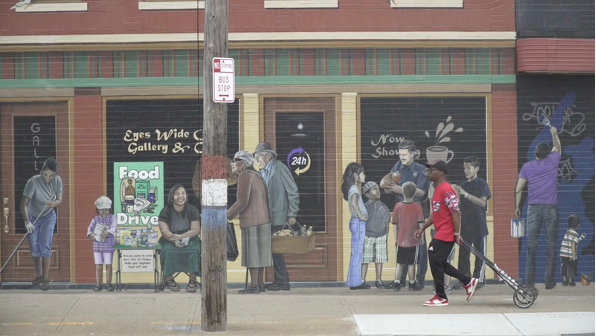 6 PM: Dreamhood (01:09:32) documentary
(USA- Ohio)
Dreamhood examines life in the International Village neighborhood in Cleveland, OH and captures the transformation of a community as a neighborhood is revitalized and a community continues to grow in terms of size and diversity.
Director Cigdem Slankard is a filmmaker based in Cleveland, OH. She was born and raised in Turkey and received her BA in translation and interpreting from Bogazici University (Istanbul, Turkey) in 1999. She first came to the United States in 1998 to study film and video at State University of New York in Binghamton. In 2002, she received a Master of Fine Arts in filmmaking from Ohio University.
She has written and directed several short film and video projects including Fresh Start (2017), Cultivation (2016) and Comfortable (2013). Her work has been included in several exhibitions and film festivals around the world.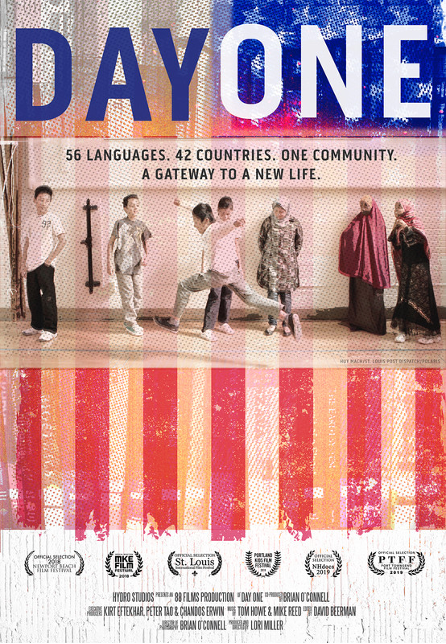 7:15 PM – 8:35 PM: DAY ONE (01:20:40) documentary
(USA- Missouri)
DAY ONE follows a group of teenage refugees from war-torn countries who are enrolled at a unique public school for refugees and immigrants-only in St. Louis, MO, where they are guided through an inspirational program of education, healing and trauma intervention by devoted educators, some of whom have chosen to relocate to the inner city to support their students. Over the course of a year, we watch the kids progress through layers of grief and loss as they attend school, forge new friendships, and prepare to be mainstreamed into local public high schools. Their triumphs and tribulations all unfold with St. Louis as the backdrop: a rust-belt city that has taken the bold step of welcoming immigrants as a solution for their growing socio-economic problems.
Lori Miller Lori is a seasoned producer known for her award-winning documentaries about arts and culture: Virtuosity (PBS), Shakespeare High (Tribeca FF, Showtime), and They Came to Play (New York Times Critics Pick). Her independent feature producing credits include: Panic, The Last Supper, and Perfect Opposites. "DAY ONE" is Lori Miller's directing debut. She is a graduate of Barnard College, Columbia University, New York, NY.
8:45 PM – 9:30 PM: Panel Discussion with Community Leaders: Dr. Emma Violand Sanchez, Founder, The Dream Project; Luis Lobo, Executive Vice President for Multicultural Banking, Truist; and Dr. Mamadou Sy, VP for Operations, Lutheran Social Services- National Capitol Area
Sunday, November 15 – Afternoon Program "Immigrant Contributions in Art & Activism"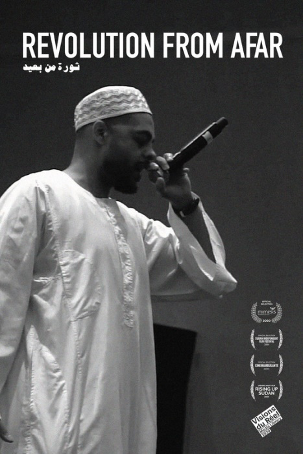 2 PM: Revolution from Afar (01:07:00) documentary
(USA- Colorado)
In 2019, after months of protests across Sudan, the military removed thirty-year dictator Omar al-Bashir and cracked down in a violent fashion on the civilian sit-in outside its headquarters. The Internet was shut down, leaving those outside Sudan to voice a plea for peaceful transition to civilian government. An ocean away, Sudanese-American poets and musicians, whose families left Sudan for America in decades past, gather in major American cities to perform in support of the revolution. At the heart of the film is a conversation around identity, belonging, and the uncertain future of Sudan, from which they have been physically cut off. What happens when they can only watch from afar?
Bentley Brown is an American-Chadian director whose film Oustaz premiered at Berlinale 2016. From 2015 to 2018 he taught filmmaking and interactive media in Saudi Arabia's first university-level filmmaking program, where he also began an underground film screening series and worked on several feature films. Working frequently in Arabic, French, he is currently enrolled in a PhD program in Emergent Technologies and Media Art Practice at the University of Colorado-Boulder.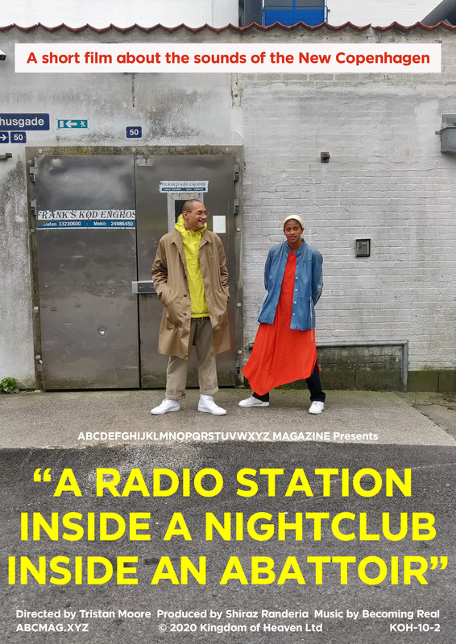 3:10 PM: A Radio Station Inside a Nightclub Inside an Abattoir (00:03:07) short
(Denmark)
A short doc about Copenhagen-based MMHRADIO. This is an online community radio station primarily set up by and broadcasting for first and second generation immigrants in the city, with the remit of bringing Copenhagen's communities together through music but at the same time it is also finding a larger, global audience.
Tristan Moore, Director, Kingdom of Heaven films.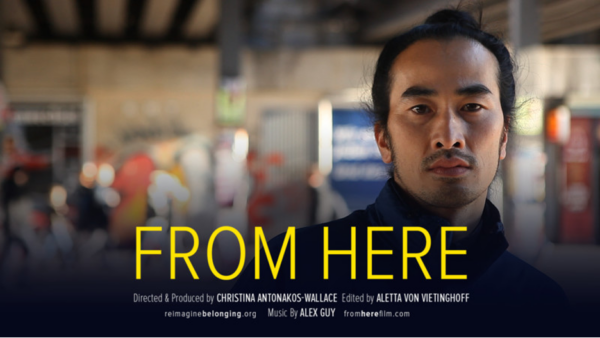 3: 15 PM: From Here (1:29:00) documentary
(USA/Germany)
From Here is a hopeful story of artists and activists based in Berlin and New York whose lives hang in the balance of immigration and integration debates. Our protagonists move from their 20s into their 30s as they fight for citizenship, start families and find room for creative expression. This sensitive and nuanced documentary captures their journeys to define what it means to "belong" in societies that are increasingly hostile to their existence. Filmed over a decade in two of the world's largest immigration countries–the U.S. and Germany–their individual stories echo the millions of young people from immigrant families coming of age during this era of rising nationalism. FROM HERE showcases not only their struggles, but enormous power.
CHRISTINA ANTONAKOS-WALLACE (Director/Producer/Camera) is a filmmaker and activist. Awards for her short films include the Euromedia Award for Culture & Diversity (2011), a Media that Matters Change Maker Award (2012), and recognition from the German Alliance for Democracy and Tolerance (2015). Her work has shown in over a dozen countries in diverse contexts from Google Headquarters, to NGOs to film-festivals. Commissions and grants for her work include the New America Foundation, Seattle Office of Arts and Culture, and the German Ministry for Civic Education. She has held residencies at Hedgebrook (2017) and the Port Townsend Film Festival (2015). She graduated with a BFA/BA from the New School & Parsons School of Design with honors. Her work was recognized with a five-year MTV Fight For Your Rights Scholarship (2002) and a Humanity in Action Fellowship (2006), which she completed at the United Nations High Commission on Refugees, in Berlin. FROM HERE is a personal project that grew from questions of how to advance racial equity in an era of globalization, and the search for her own sense of belonging in the context of her family's migrations.
4:45 PM – 5:30 PM: Filmmaker Panel Discussion with Bentley Brown and Bayadir Mohamed Osman (Revolution from Afar) and Christina Antonakos-Wallace and Tania Mattos (From Here)